Mua Thu Cho Em 2013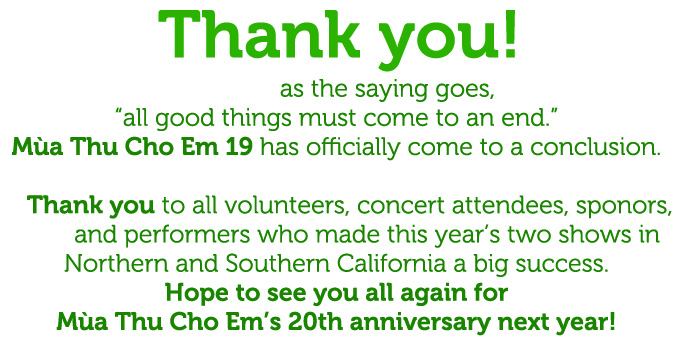 Our musical guests include a wonderful line-up of performers to keep you entertained and inspired!
Mỹ Linh
Blessed with a precise yet rich and emotional voice, Mỹ Linh has been singing professionally since she was sixteen years old. Her musical talents were recognized when she was still just a little girl performing at various children's music contests. Since then, she has gone on to win numerous prizes domestically and internationally, the most noted being "The Golden Voice of Asia Award" in 1999. In 2006, she became the only Vietnamese artist to sing at Asian Divas night in Nagoya, Japan.

A masterful stylist, her elegant and accessible music blends funk, soul, R&B and jazz. Mỹ Linh's music is firmly entrenched in Vietnamese culture while remaining open to international influence. Mỹ Linh made her debut in America on the VNHELP stage in 2002, came back to perform for VNHELP for a second time in 2011, and is back again by popular demand this year.

*Mỹ Linh will only be appearing in the Northern California show this year.
Bằng Kiều
Bằng Kiều was born into a musical family with the love of performance arts running through his veins. He began playing music when he was a child and took up studying the Bassoon at the Hanoi Conservatory of Music in 1989, but eventually switched to becoming a vocalist after realizing his passion for singing.

Bằng Kiều has produced a number of popular songs, including Neu Ðieu Ðo Xay Ra, Trai Tim Khong Ngu Yen, Mua Tren Ngay Thang Do. With his eloquent voice, stage charm and many talents, Bằng Kiều always makes his stage appearances exciting and full of delightful surprises. Bang Kieu sang for Mùa Thu Cho Em in 2004, 2010 and 2011, and requests from our audience has brought him back for the fourth year.

*Bằng Kiều will only be appearing in the Southern California show this year.
Trần Thu Hà
Trần Thu Hà is known as a vocalist with a colorful and eclectic performing style, singing with ease in everything from electronica and alternative rock to pop and indie.

At the age of 10, Thu Hà joined the Hà Nội School of Art and then studied Vocal Music at the Hà Nội Conservatory of Music. Her music has been well-received and recognized with a number of prestigious awards. In 2000, Thu Hà was voted favorite singer at the Golden Orchid Awards, and she has been consistently voted among the top ten singers in Vietnam by music critics and audiences since 1998. Trần Thu Hà joins Mùa Thu Cho Em for a third time this year after making her debut in America on the VNHELP stage in 2002 (with My Linh) and appearing in Mùa Thu Cho Em 2007.
Quang Tuấn
Quang Tuấn grew up in Da Lat, Viet Nam and is a popular singer among the Vietnamese overseas community. He began studying modern and classical guitar at the age of 13, but never considered himself a singer. Then the support he received from audiences for his sweet and melodic voice encouraged him to pursue singing as a professional career.

Quang Tuấn studied music performance at Golden West College. In 1992, Quang Tuấn took first place "Golden Voice," a singing contest organized by renowned musician Duy Khánh. Quang Tuấn has released 4 albums, which includes Gửi người em gái (2000), Huyền (2001), 10 ca khúc Thanh Trang (2002) and Cánh Hoa Duyên Kiếp (2004). All of these albums have been highly successful and appreciated by both Vietnamese and overseas communities. Quang Tuấn's especially admired by his fans for singing "Nhạc Tiền Chiến" (beautiful classic songs written before 1954)
Teresa Mai
A native of California, Teresa Mai is a second generation Vietnamese American soprano singer. Mai earned her Bachelor of Music degree from California State University of Long Beach where she performed with the Opera Institute. She later went on to earn a Master of Music degree at The Boston Conservatory of Music in Voice Performance and spent time studying and singing in Los Angeles, Austria, and Italy.

As a soprano, Teresa has performed in a number of starring roles, including Adele in Die Fledermaus, Despina in Cosi Fan Tutte, Euridice in L'Orfeo and Sophie in Der Rosenkavalier. In 2011, Mai made her debut with Harmonia Opera at the Merkin Concert Hall in New York in the role of Nyobo in the Japanese opera A Story of Three Women by Sadao Bekku. Closer to home, she was crowned Miss Los Angeles Vietnam 2011 and was a top 10 finalist in the Miss Vietnam Continents 2011, where she was also won Miss Talent.
Thiên Tôn
Thiên Tôn was born in Bình Dương, Việt Nam and came to the United States with his family when he was 10 years old. He started singing at the young age of 13 in his high school and church choir, and developed an interest for music and singing. He continued his music studies and pursued music more seriously in college. In 2009, he graduated from California State University, Long Beach with a Bachelor of Music in Vocal Performance with an option in Jazz Studies.

In 2012, he received the People's Choice Award in the V-Star Singing Competition produced by Thúy Nga, Vietface TV, and Dancesation. As a result, he became one of Thúy Nga's contracted singers and has appeared on Paris by Night since Paris by Night 106 in Las Vegas. He just released his debut solo CD album Hương Xưa in August 2013.

Becoming a sponsor of our concert is a great way to build your brand among a growing Vietnamese American consumer market while supporting a worthy cause.
Check out our Sponsorship Overview packet by clicking on the link below for more information. A big thank you to our confirmed sponsors. See the list here!
We also have print advertising and direct marketing opportunities available. Check it out!

You can reserve your tickets in-person at our office, over telephone, or by email. VNHELP subscribers get early distribution beginning August 5th, and tickets go out to the general public beginning August 30th.
Not yet a subscriber but want to get your ticket early? Send an email to VNHELP and we'll add you as a subscriber!


Got a question about the concerts or sponsorship opportunities? We're here to help. Send us an email or call us. The number is (408) 586 – 8100 for Northern California inquiries and (714) 642 – 8866 for Southern California inquiries.If you're in the neighborhood and want to drop by the VNHELP office, we are located at:
500 E. Calaveras
Boulevard
Suite 235
Milpitas, CA 95035